Gresham High School
About the Project – Planned Improvements
The new school design puts student access, health, safety and security as a top priority. The school will be barrier free to anyone with mobility, vision or auditory limitations. Student, teachers and administrators will have access to all community building gathering places. The partially replaced high school will create an easily monitored environment where administrators and teachers are comfortable in knowing who has been greeted and screened to enter the school. Clean indoor air quality and access to day-lighting will reduce absenteeism, improve classroom teaching and test scores.
A series of new "porches" along Main and Division will create a highly activated streetscape. The main entry points are slightly elevated above street level to add prominence and ascension up and into the school. The continuation of the finish floor lines, create an architectural base of the school. At street level the porch edges will be used as benches and casual gathering places. The porches are accessible from the street level by integrated ramps rising up to front, welcoming outdoor vestibules that clearly identify entry and access.
The school entry points are clearly connected to mid-block pedestrian crosswalks along Main and Division; but, most prominently at the corner of Main and Division. The overhead protected walkway along the Division side of the school directs pedestrians other school entrances to an east.
The most visually distinguishing element of the school's exterior is the highly transparent entrance lobby to the theater at the corner of Main and Division. The activated entry will be a visually prominent architectural statement with elevated entry base, recessed doorway, and deep overhanging projected façade and sunshade. The theater will anchor the northern end of the Main Street and downtown Gresham. The iconic entry will be The Gateway to Gresham as intended in the downtown redevelopment plan.
The partially replaced High School will reduce waste and save energy by including sustainable design practices such as exterior sunshades, efficient exterior walls and roofs, storm-water management, recycling of waste and repurposing of historic elements. The school's 1940's WPA façade will be honored in concept and detail. The flanking, massive "bookends" will be reconstructed and adorned with the original artifacts – athletic sculptures, Greek goddesses' statuary and rosettes. The memorable façades will continue to dominate the Main Street façade. The historic gingko trees will remain. In the center, beyond the trees, symmetrically balanced in a courtyard will be new focal structure on which the main entry "sage" sculptures will be redisplayed
Project Updates
September 2018
This month, construction crews installed the largest crane in Gresham's history at the Gresham High School construction site.
August 2018
Demolition of the existing auditorium is complete. Footings for orchestra pit of the new auditorium, and tower crane pad are excavated. The crane is scheduled to arrive on September 18th. Reinforcing steel is being installed preparing for concrete placement. Site utilities are starting to be installed including onsite sanitary, storm, and electrical.  
July 2018 – Demolition Underway at Gresham High School
After this past spring's exciting groundbreaking ceremony, demolition is well-underway at Gresham High School. Construction crews have already demolished the auto body classroom, the childcare center, and are finishing the deconstruction of the old auditorium and childcare center.
"This summer, construction begins on a brand-new, 550-seat auditorium on the southern edge of Gresham High School's campus. The new auditorium will include a massive atrium that faces SE Division Street looking towards downtown Gresham."
April 2018 – Groundbreaking Ceremony for Gresham High School
"Gresham High School students in 2020 will have access to a state-of-the-art building. The new school will have technology unthinkable to previous generations.

However, the new building will also contain historic elements from its past. Thanks to a former art teacher, the new building will feature an iconic set of hand-wrought iron doors first installed over 80 years ago."
"The district's efforts to build a new Gresham High School passed a significant hurdle last month when the City of Gresham's Design Commission approved plans for the new building on a 6-1 vote. This approval, passed after a meaningful dialogue with staff from the city and the district at a November meeting, allows the District to move forward with preparing for construction, slated to begin next year."
Through community input the design team learned the building's facade was a point of pride and should be incorporated into the new design.
"The community let us know that retaining the facade in the new design was an important feature of the new building—but not at the expense of building a great educational facility," said project architect Richard Higgins. "Our challenge in the design process was to find a way to keep the look of the facade, to incorporate architecturally-significant elements from the original building, while staying on budget."
May 2017 – Working with the City of Gresham and Design Commission
The district has been working closely with the City and the Design Commission to create a design and site plan for Gresham High school that meets the goals and objectives of all interested parties.
On May 3, 2017 the district met with the Design Commission to present a preliminary design for GHS.
Based on comments received at the May 3rd Design Commission meeting and numerous meetings with City of Gresham staff and community members, the design of future improvements at Gresham High School has evolved. The refined design balances budget limitations, school program and security needs, site constraints and deeply held community feelings towards Gresham High School. The outcome is a refined design that will meet school program and security needs while respecting more of the community's desire to preserve the context of the building and, at the same time, create more of a gateway presence at the key intersection of Division and Main.
Timeline:
April 6, 2017:

Reviewed downtown streetscape guidelines with City of Gresham Staff

April 12, 2017:

Submitted "Early Design Assistance" documents to City of Gresham

April 17, 2017:

Submitted "Land Use Pre-Application Conference" documents to City of Gresham

April 25, 2017:

GBSD Bond Project Meeting with City of Gresham staff

May 3, 2017 :

"Early Design Assistance" meeting with   Design Commission

May 10, 2017:

"Land-Use Pre-Application Conference" with City of Gresham

May 10, 2017:

Received "Early Design Assistance" summary from City of Gresham

June 6, 2017:

City of Gresham Design Review Meetings

June 30, 2017:

GBSD submitted new design to Gresham Design Review Commission

July 19, 2017:

Next planned meeting with Gresham Design Review Commission

Nov 17, 2017:

Gresham Design Review Commission approves plans for Gresham High School Expansion

April 4, 2018: Groundbreaking Ceremony for Gresham High School Expansion
Community and Stakeholder Involvement
Gresham High School Staff Planning
At the request of the district, Principal Michael Schaefer convened a group of GHS teachers and staff to advise the district on their needs, desire and priorities for the GHS bond project. This building design team has spent numerous hours working with the architects and construction management team to provide important feedback as the design phase of the project has progressed.
January 25 – February 2, 2017 – Four half/full day meetings with GHS Site-Based Building Design Teams.  The ten participants spent over 28 hours reviewing and refining plans including site visitation to Roosevelt High School.
April 10-14, 2017 – All Staff (92 employees) opportunities to meet and discuss specific design needs with design team.
April 10-14, 2017 – Design team met with 7 student groups to solicit feedback on proposed design.
May 4-5 2017 – Further design development with staff on specific areas including Counseling, Administration, Safety & Security, Fine and Performing Arts/Auditorium
Monthly updates to all staff on progress including input at staff development meetings.
Surveys distributed to staff and available to public for input.
Community Presentations:
April 4, 2017 7:30am Public/Parent Presentation
April 4, 2017 6pm Public/Parent Presentation
June 5, 2017 6pm Neighborhood/Parent Presentation
Board & Community Input:
February 17, 2017 Board Retreat Project Overview and Introductions
May 4, 2017 Board Meeting Project Update and Design Presentation
June 1, 2017 Board Work Session Façade Study Presentation
June 8, 2017 Board Meeting Façade Study Presentation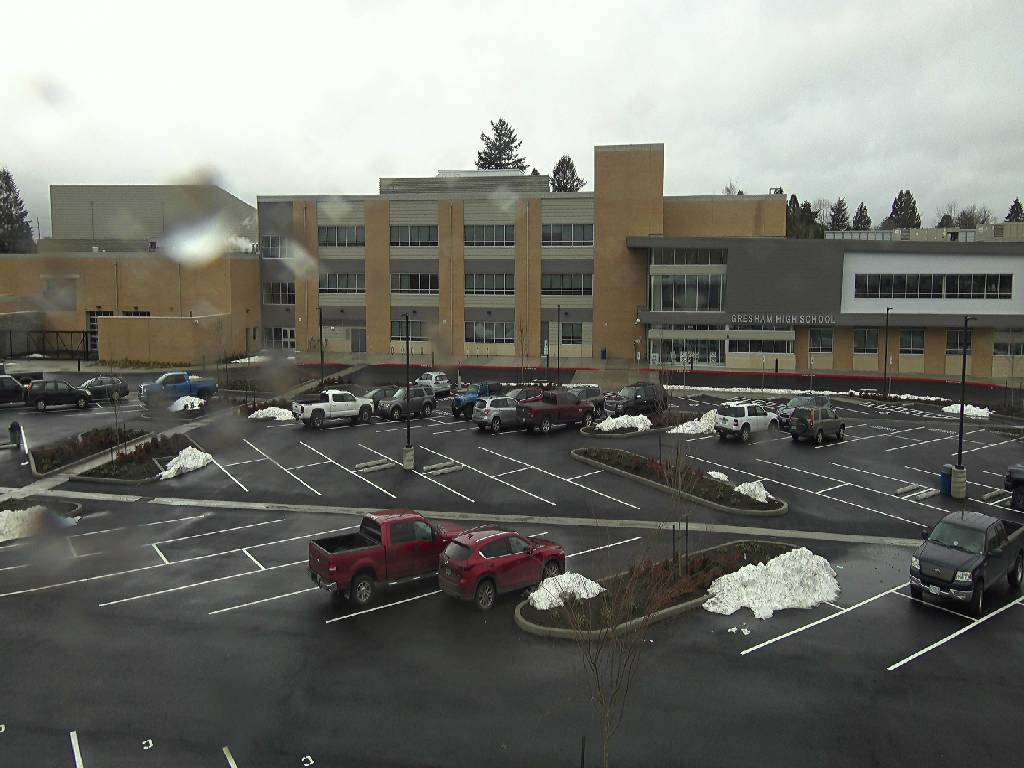 Gresham-Barlow School District, in partnership with Fortis Architecture, have set up a live camera monitoring progress on the renovations underway at Gresham High School.
Home of the Gophers
Schedule
2017
2018
2019
2020
2021
J
F
M
A
M
J
J
A
S
O
N
D
J
F
M
A
M
J
J
A
S
O
N
D
J
F
M
A
M
J
J
A
S
O
N
D
J
F
M
A
M
J
J
A
S
O
N
D
J
F
M
A
M
J
J
A
S
O
N
D
Pre-Design / Design / Bid-Award
Construction / Closeout 21 Months
Legend
| | | | | | | | | | | | |
| --- | --- | --- | --- | --- | --- | --- | --- | --- | --- | --- | --- |
| | Pre-Design | | Design | | Bid-Award | | Construction | | Land Use | | Closeout |